The scientific and technological research project "Research and Development of Aquatic Animal Infectious Disease Detection Gene Chips" jointly developed by the Tianjin Inspection and Quarantine Bureau and Nankai University has successfully passed the appraisal and acceptance. The experts in the identification group unanimously agreed that the chip method has the advantages of high throughput, specificity, sensitivity, rapidity, shortened test time, and reduced workload, and is in line with the conventional culture method. The research and development of the project has a high starting point. , up to the international advanced level.
At present, changes in import and export quarantine technology and diseases are changing with each passing day, and higher requirements are placed on the development and utilization of new technologies and rapid diagnostic methods. "The Research and Development of Aquatic Animal Infected Disease Detection Gene Chips" has developed an aquatic animal disease detection gene chip and created a bimolecular hybridization technique to achieve the detection of a variety of aquatic pathogenic microorganisms at once. During the R&D process, altogether applied for 5 invention patents, published 2 SCI (Scientific Citation Index) papers and formed 3 kits. In addition, 5 other papers have been submitted to SCI and submitted more than 50 articles to Genebank. The gene sequence was trained by 2 master students.
The project appraisal meeting was held in Nankai University School of Life Sciences. 7 experts including Beijing, Zhuhai and other inspection and quarantine bureaus and Tianjin Institute of Animal Husbandry and Veterinary, Tianjin Medical University, Tianjin University of Science and Technology, Hebei Normal University, and Hebei Agricultural University participated in the appraisal and acceptance. meeting.

Pure White Garlic,also called snow White Garlic .There is no purple strips on the skin.The price of pure white garlic is more higher than Normal White Garlic.Our company can supply fresh,high quality and cheap pure white garlic .

Pure white garlic, packed in 10kg/carton
1. Commodity name: Pure white garlic (snow white garlic)
2. Feature: strongly spicy, milk white flesh, naturally bright color, no burnt, no mouldy, no broken, no dirt skins, no mechanical damaged, 1-1.5cm stem length, roots cleaness.
3. Size: 4.5-5.0cm, 5.0-5.5cm, 5.5-6.0cm, 6.0-6.5cm, 6.5cm & up.
4. Packing:
1) Loose packing(inner string bag): a) 5kgs/carton, b) 10kgs/carton, c) 20kgs/carton; d) 5kgs/mesh bag, e) 10kgs/mesh bag, f) 20kgs/mesh bag
2) Prepacking:
a) 1kg*10bags/carton b) 500g*20bags/carton c) 250g*40bags/carton
d) 1kg*10bags/mesh bag e) 500g*20bags/mesh bag f) 250g*40bags/mesh bag
g) prepacked by 1pc/bag, 2pcs/bag, 3pcs/bag, 4pcs/bag, 5pcs/bag, 6pcs/bag, 7pcs/bag, 8pcs/bag, 9pcs/bag, 10pcs/ba, 12pcs/bag, then packed with 5 or 10kgs carton, 5 or 10kgs mesh bag outside.
h) Or packed according to clients` requirements.
5. Supply period: all the year round
a) Fresh Garlic: early June to end August
b) Cold storaged garlic: early September to the next middle May
6. Conveyance:
a) Cartons: 24-27.5MT/40`HR (If palletized: 24Mt/40`HR)
b) Bags: 26-30Mt/40`HR
7. Transporting and storing temperature: -3°C--+2°C
8. Shelf life: stored for up to 12 months in proper conditions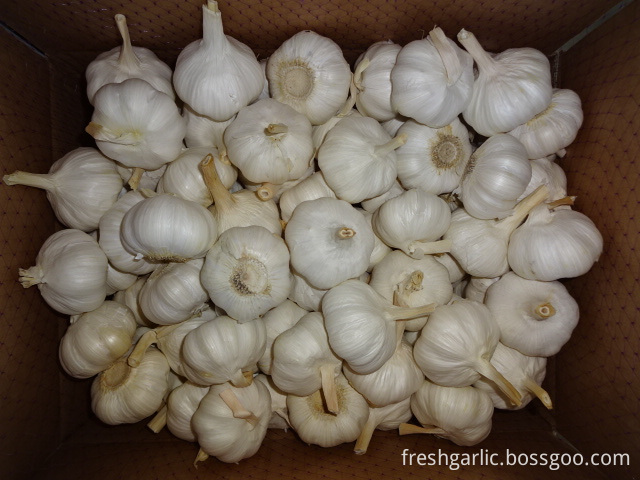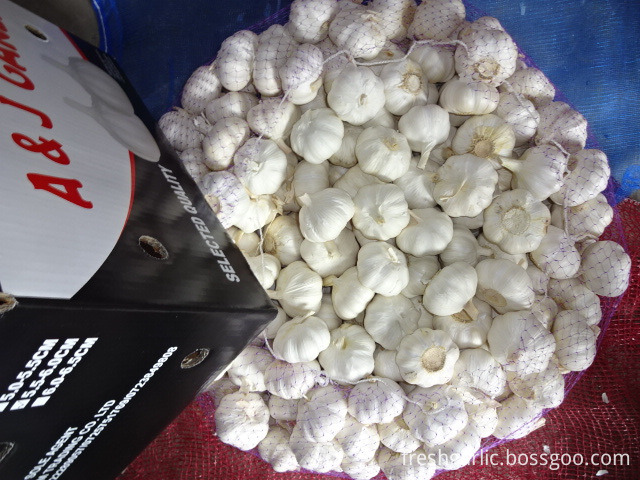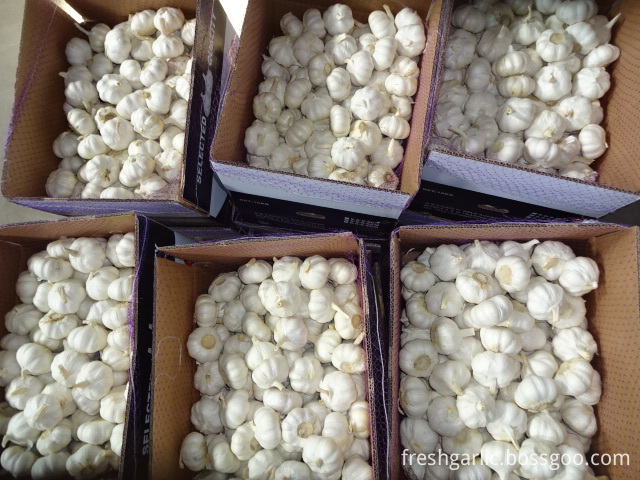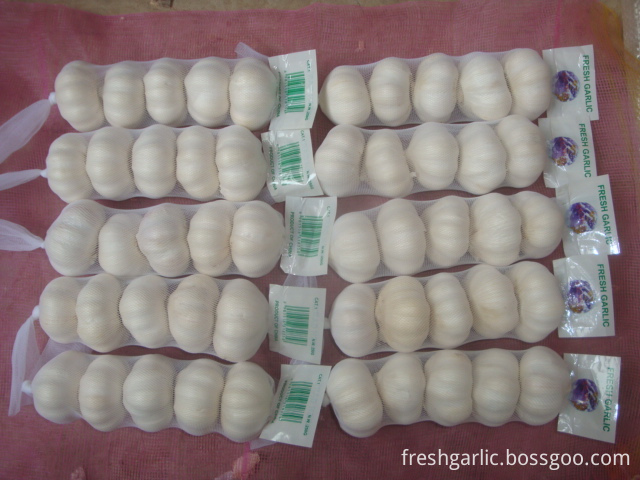 Pure White Garlic
Pure White Garlic,Fresh Pure White Garlic,Pure Garlic,Pure White Fresh Garlic
JINING FORICH FRUITS & VEGETABLES CO., LTD. , http://www.forichgarlic.com