[Scientific name] Sprekelia formosissima
[Genus] Amaryllidaceae Fireweed
Native to Mexico and Guatemala. Not cold, happy warm sunny environment, suitable summer temperature 18--22C, winter temperature 15 - 18 °C. Generally used as greenhouse plants, the cultivation medium needs fertile loam rich in fiber. Plant height about 30cm, with capsule bulbs. Leaf shape. The flowers are solitary at the top, the corolla is dark red and sloping. Flower diameter about lOcm. Flowering late spring or early summer. There are big flowers, safflower white edges and yellow strips and other varieties. Ball breeding or sowing breeding. If properly cultivated, it can bloom many times a year. Used as a potted plant in the greenhouse or planted in a warm area.
The yellow mealworm is not only rich in protein, fat, polysaccharid and other organic macromolecular nutrients, but also rich in phosphorus, potassium, iron, sodium, aluminum and other trace elements. For every 100g of the yellow mealworm larvae, the protein content of dry powder is between 48% and 54%, the fat content is between 28% and 41%, and the contents of vitamin E, B1 and B2 are also high. Therefore, the yellow mealworm can provide high quality protein for the lark birds, make the lark birds strong, eyes bright, feathers rich and shiny.
Fenxi Kangruilai Bio-Technique Trade Co., Ltd , located in Shanxi province, is a professional manufacturer and exporter, which includes research and development, production and sales. And it is specialized in producing and processing of mealworms (Tenebrio Molitor).The company ,which has a complete scientific quality management system,was established in 2017 with the registered capital RMB1,000,000. It is the only enterprise in Shanxi province that integrates the cultivation, breeding, processing and domestic and foreign market sales of mealworm. With the development and excellent reputation, the scale becomes larger and larger. At present, our main product is dried mealworm(Tenebrio Molitor), Protein Powder and Essential Oil, all of which are made of mealworms(Tenebrio Molitor). And our dried mealworms(Tenebrio Molitor) are rich in protein, fat , vitamins, minerals, amino acid and trace elements, can be effective supplement for all kinds of pet nutrition to improve the immune function.The products, which comply with feed hygiene standards, are mainly exported to Europe, America and Canada etc, and where they have been widely praised by the customers. No matter quality or quantity, service or transportation, we are all ready. Please make the right choice for your animal friends!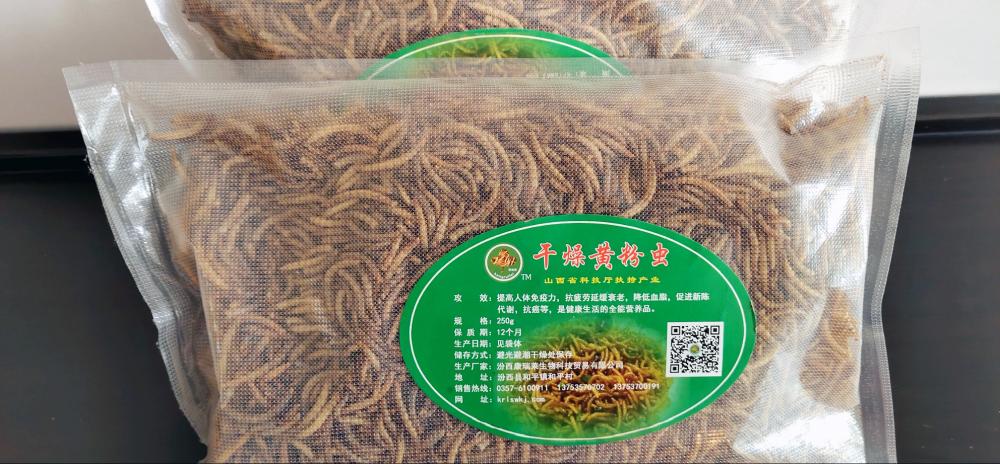 Lark Feed,5Kg Lark Feed,10Kg Lark Feed,15Kg Lark Feed
Fenxi Kangruilai Biotechnology Co., Ltd. , https://www.kangruilai-petfeed.com